Besides the best chefs, Italy's master confectioners will show us how our favourite ingredient can take on innumerable roles in culinary and confectionary art. In this issue, Giovanni Cappello, among the youngest Italian master confectioners of the historical Pasticceria Cappello in Palermo and Luigi Taglienti, Executive Chef of Ristorante Trussardi alla Scala in Milan, will turn espresso, either in powder or beans, into a protagonist.
An obsessive attention to studying ingredients, treated with respect and accuracy, without crossing each other's line regarding taste. This is the philosophy of Chef Luigi Taglienti of Ristorante Trussardi alla Scala in Milan. Apprentice of Carlo Cracco, the young chef looks promising – so much as he obtains a Michelin star and is awarded with Young Chef of the Year in 2009. His ideas about cooking are very clear: balanced, respectful of the products of your own area, but well-advanced. A visceral passion for a continuous search of raw materials avoiding the globalization process and nicely given back to us in each of his dishes, albeit with some reinterpretation.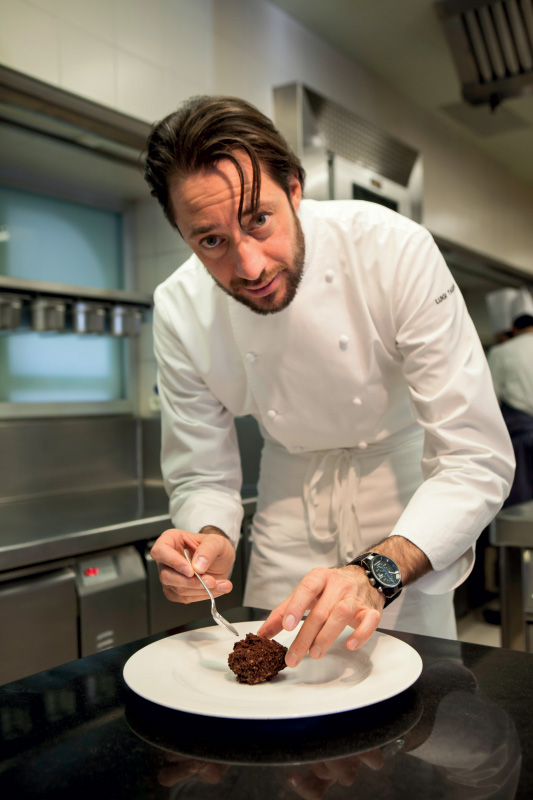 Black truffle and tiramisu
Ingredients for 4 people:
for the coffee semifreddo: 110g sugar, 26 g water, 170g fresh yolk, 500g mascarpone, 300 g half-whipped cream, 20g instant coffee. Follow process to get a classic semifreddo base.
for the icing: 100g caramelia chocolate, 45g cocoa butter.
for the coating: cocoa sponge cake cuttings 55%, hazelnut crumbles 20%, bitter cocoa 10%, dried mushroom powder 5%, maldon salt 5%, icing sugar 5%
Finishing and presentation: Spread out the semifreddo into a plate and level it. Make some disks with the help of a medium-sized cup, optimizing the product and wrap it in wax paper, obtaining a truffle form. Frost the surface and finally dip in into the aromatic powders.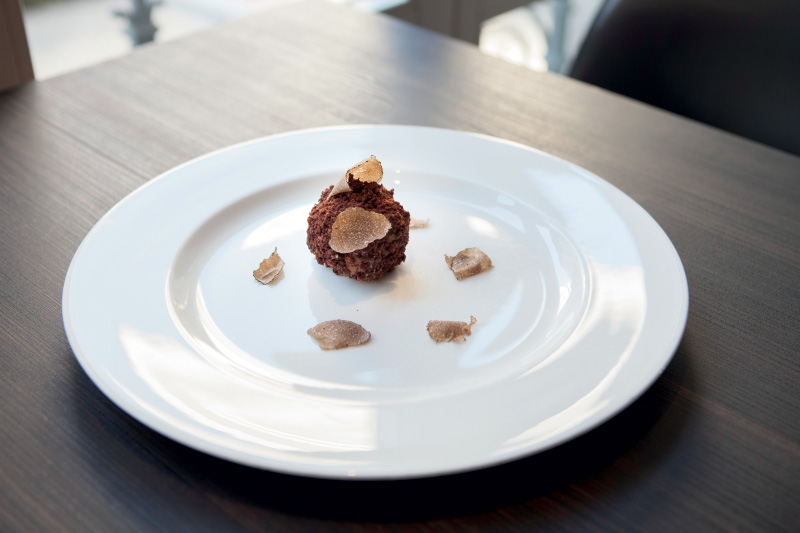 In via Colonna Rotta, small alley in the heart of Palermo, you smell the scent of chocolate from the small street's entrance. Avoiding it is not easy, given that on one side, there is the laboratory and opposite to it the Pasticceria Cappello, among the most famous and historical pastry shops of Italy. Giovanni Cappello, regional delegate of the Italian Association of Confectionery and silver medal 2013 at the Chefs and Confectioners World Championship in Basle, welcomes us and delights us with a dessert that the palate will not forget.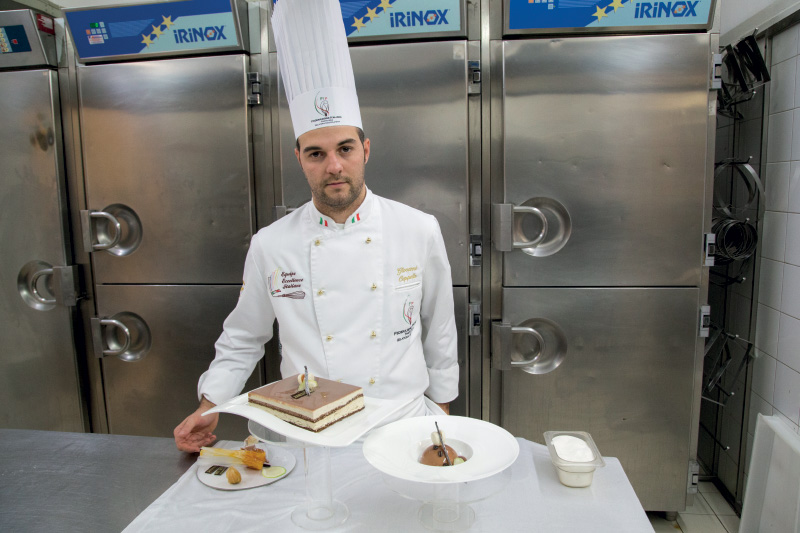 Arabica cake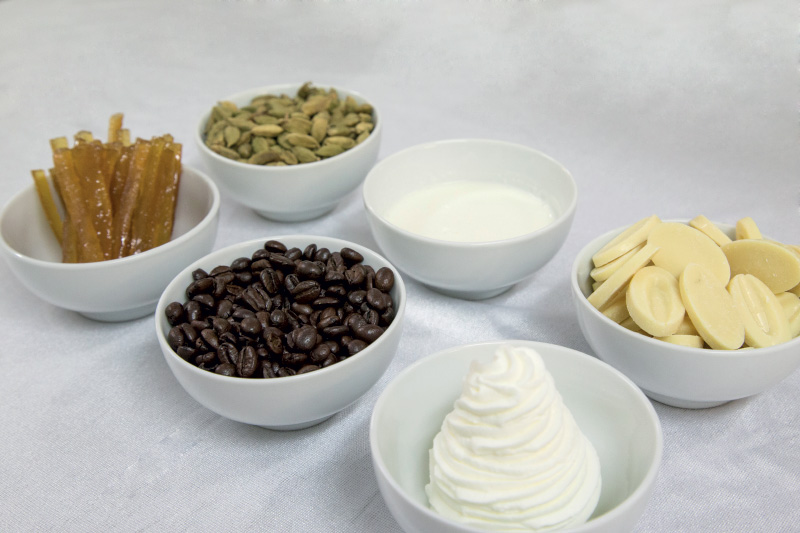 Ingredients for 8 people:
for the sponge cake: 400 g yolk, 300g sugar, 400g egg white, 60g sugar, 80g flour, 80g cocoa, 80g starch. Beat egg yolks with 300 g sugar and egg whites with 80g sugar. Emulsify everything and add powder. Bake for 11 minutes at 230°C.
for the lemon compote: 500g candied lemon peel, 100g limoncello, 100g lemon juice. Chop everything with the cutter.
for the white chocolate mousse: 330g milk, 75g coffee beans, and 30 g cardamom seeds. Make an infusion (cold) of 24 hours. Heat up and add 10 g gelatine leaves. Add 465g white icing and make a ganache. At a temperature of 28°C, add 500g half-whipped cream.
Integrate cocoa biscuit: 400g eggs, 300g sugar, 400 g egg white, 60g sugar, 75g flour, 75g cocoa. Beat egg yolks with 300 g sugar and egg whites with 60g sugar. Emulsify everything and add powder. Bake for 11 minutes at 230°C.
Chocolate cream: 500g fresh milk, 500 g liquid cream, 200 g egg yolks, 100g sugar. Cook at 85°C and add 375g of dark chocolate to the cream. Make a ganache and add 150 g half-whipped cream when 40°C are reached.
Glaze: 1000g white chocolate frosting, 100g 55% dark chocolate icing, 500g milk, 100g glucose, 16 g gelatine leaves. Make a ganache and use at 28°C.