In the heart of Baroque in Modica Alta, La Gazza Ladra is a refined restaurant within the Hotel Palazzo Failla, where you breathe a pleasant atmosphere even during the summer, thanks to the dinner served in the reserved lemon garden. Its kitchen has been awarded with a Michelin star and has been put into the hands of Tuscan chef David Tamburini, who fell in love with Modica and the tastes the Sicilian region can offer, just few months ago. Before that, the fascination for the vegetable world leads him to Milan at the Joia of Petro Leemann, where he stayed two years. Author of a contemporary, personal cuisine, he gives value to the complex simplicity of the material with lightness and elegance. With few gestures and simple raw materials, he managed to offer us a dish that charms our palate, where single ingredients are easily recognized in a jubilation of fresh and summery flavours.
Mezze zite with blended cauliflower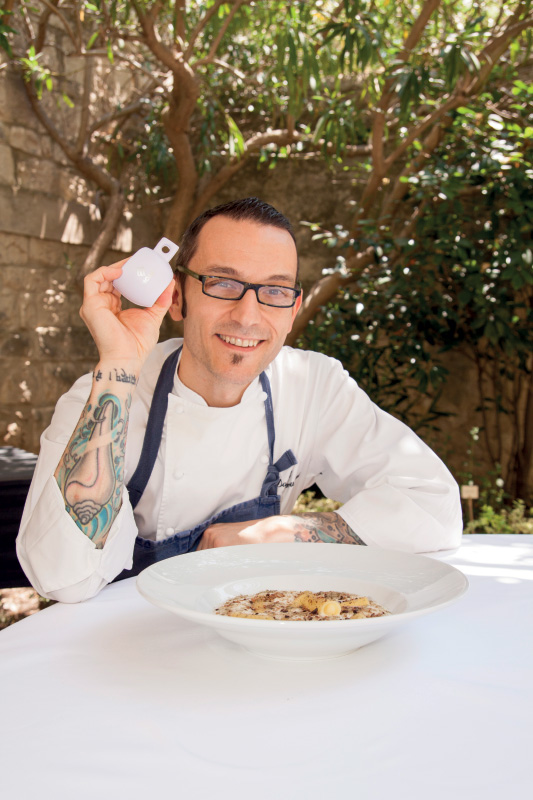 ingredients: 1 white cauliflower, 200 g ragusano DOP cheese, 100 g Parmesan cheese aged 24 months, 400 ml whole milk, 10 g corn flour, mezze zite pasta, 50 g capers in salt, 100 g anchovies in salt, liquid sauce made from the juices of anchovies, moak coffee beans
Preparation: desalinate capers and anchovies and desiccate them in order to get a gross powder. Cook the cauliflower cut in florets in water and milk, whip it and pass through a fine sieve. Fill the siphon and keep it at temperature in a warm bain marie. Bring the milk to a boil, mix the two cheeses and make them meld delicately while removing it from the fire; bring to the boil again and thicken the fondue with corn flower dissolved in cold water. Cook the mezze zite, strain them and stuff them with the ragusano cheese fondue while still hot; put again into a pan including a trickle of water, put a lid on and warm up over a low flame for about a minute (it will help to make the fondue stringy).
Completion of the dish
Arrange a tuft of cauliflower foam on the dish, put the stuffed zite on it, finish with the anchovy sauce, capers and dry anchovies as well as the crushed coffee beans. The latter will give a toasted and bitter touch to the preparation, completing the dishes' sensorial path.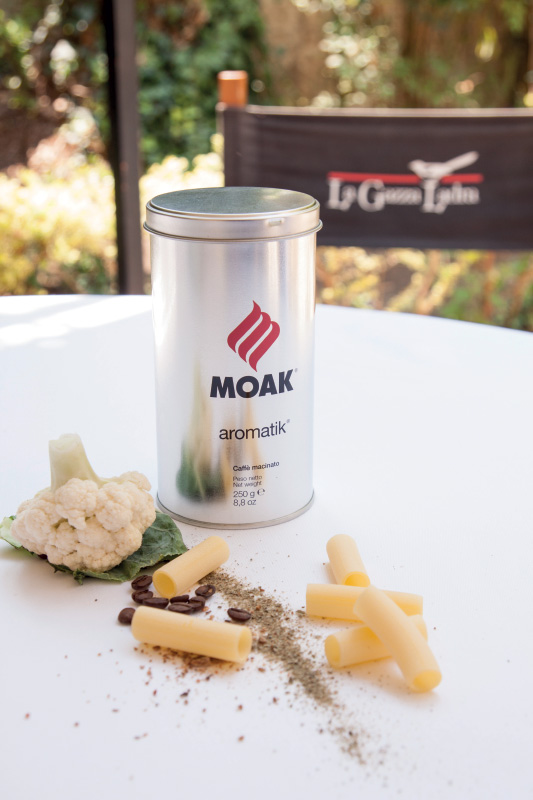 In Caltagirone, few metres from the staircase of Santa Maria del Monte, the Restaurant Coria, dedicated to Colonel Giuseppe Coria, author of the volume par excellence of Sicilian gastronomy "Profumi di Sicilia" (Scents of Sicily) is set up in 2008. Creators are two young chefs Domenico Colonnetta and Francesco Patti. Brought together by passion for cooking, they decide to undertake a new experience by opening their own restaurant. A successful choice awarded with a Michelin star. In 2013, they gave life to Squiseating, the first banqueting created and managed by two star chefs.
Rice cream, "Arabica" zabaglione and "Aromatik" jelly
For the rice cream: 30 g whisked rice, 70 g sugar, 300 g fresh milk, ½ vanilla bean. Mix all ingredients in a small pot and cook over a very low flame; when the rice is well cooked, whisk it until you get a smooth and uniform sauce.
For the Arabica zabaglione: 3 Arabica blend espressos, 2 egg yolks, 35 g sugar, 100 g cream whipped with 10 g of sugar, 1 gelatine leaf, 125 g mascarpone cheese. Beat yolks with sugar until stiff and add the gelatine leaf on bain marie. Mix the mixture to the mascarpone first and then to the whipped cream. Mix the coffee and put everything into a double-fill cream siphon.
For the "aromatik" jelly: 250 g aromatik espresso, 75 g sugar, 25 g corn starch, minced cardamom as required, 25 g dark chocolate. Mix coffee, sugar, cardamom and starch with the help of a whisk. Put everything into a small pan and cook over a low flame. Add the chocolate as soon as the cream solidifies. Fill moulds, let them cool down and turn out after about 2 hours.
For the "forte" water ice: 3 espressos of the "Forte" blend, 450 g water, 130 g sugar, 50 g glucose. Mix all ingredients in an immersion blender. Once the mixture is well blended, cook until creamy with the specific ice-cream machine.
Composition of the dish
Put some spoonful of rice cream at the bottom of the dish. Siphon the coffee zabaglione within a chocolate wafer. Form a cylinder with sweet roll guts and a ball of "forte" water-ice. Decorate with mulberry sauce, whipped cream and some roasted coffee bean.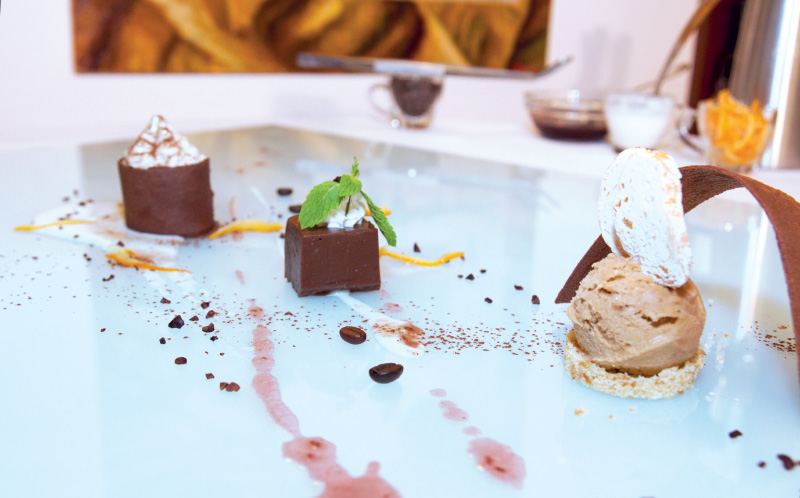 Recommended song for the reading of the present article: A finestra – Carmen Consoli