"Coffee and side dishes" is the new The Sign Moak section that will tickle your fancy and disclose how coffee can be combined with innumerable foodstuffs, from citrus fruits to fish and pasta. Chef Carmelo Chiaramonte will accompany us through this trip full of surprises foe eyes and palate. Culinary scenographer, television writer for Gambero Rosso Channel, he also published a book "A tutto tonno" (word play of a tutto tondo = all around, and tonno= tuna). He defines himself "ramble cook", though with a strong sense of identity towards his region, Sicily, rich of history and sayings he loves to recall in his cooking.
The fragrance of a young summer
Before the heat makes all flowers that can be eaten wither, it's good to get up at seven o' clock in the morning and wander around fields and gardens. This is the time when you collect edible Mediterranean flowers that are still full of scent and flavour. Each collected goblet, corolla or petal is followed by a bow to our mother earth, the one who nourished us with her breast of compact dust in endless clods. Flowers are the most scented expression of each plant; they lighten up our sight, they make us turn back to a more tranquil rhythm and give us a rainbow sickle of good smells. After the morning pick, a curious starter for lunch, where the dusty powder of coffee gives the flowers roasted notes: unusual combination to be tried. A light dish and rich of taste which makes the mouth feel a short symbolic walk between the home garden, the small deli shop and the coffee shop, carried out with a fork.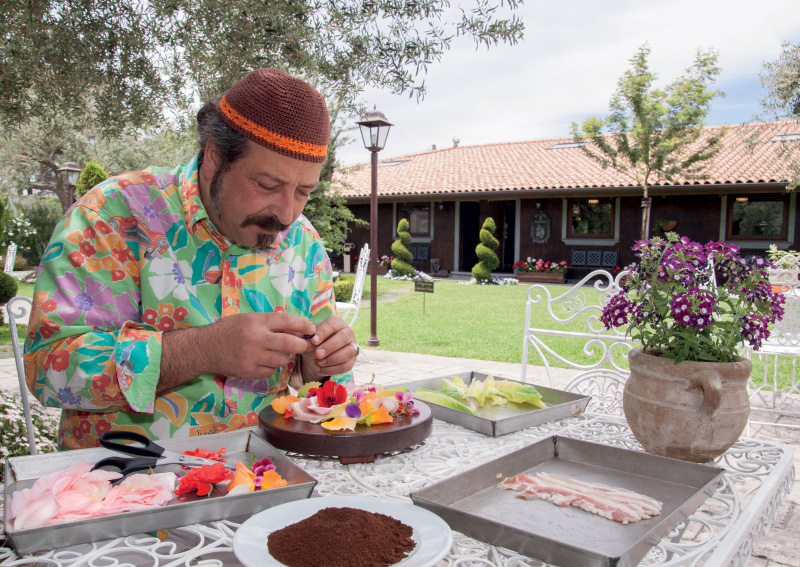 Bacon, Roses, Flowers and Coffee – How to prepare it
Put some salad on the plate. Sprinkle the bacon with coffee and arrange on the plate. Colour the plat with the cleaned flowers, deprived of the bitter part on the inner parts of the petals. Add some raw olive oil of average fruity intensity, such as the biancolilla or nocellare etnea of Belice. A Sicilian chardonnay improved in barrique or a well scented and intense gewürztraminer of the Friuli region can be served with this starter.
Doses and ingredients for 4 people:
300 g smoked bacon
2 fragrant roses (Damask, Gallic or Musk rose)
1 pansy
5/6 flowers of hollyhock geranium
2 tea spoons of fresh ground Robusta coffee powder
olive oil as required
a heart of finely chopped lettuce