A coffee and pecan dessert boasting flavours of the region
Development of raw materials, deep research and great creative flair, flavours complementing each other and establishing a natural harmony – not in a forced way, but maintaining their own identity. A game of balances between sapidity, sweetness and acidity, but also between textures and different tones. Sometimes, you are just astonished and positively surprised by some dishes at first taste. This is exactly what happened with the dessert made by chef Alessandro Ravanà of the restaurant Il Salmoriglio in Porto Empedocle.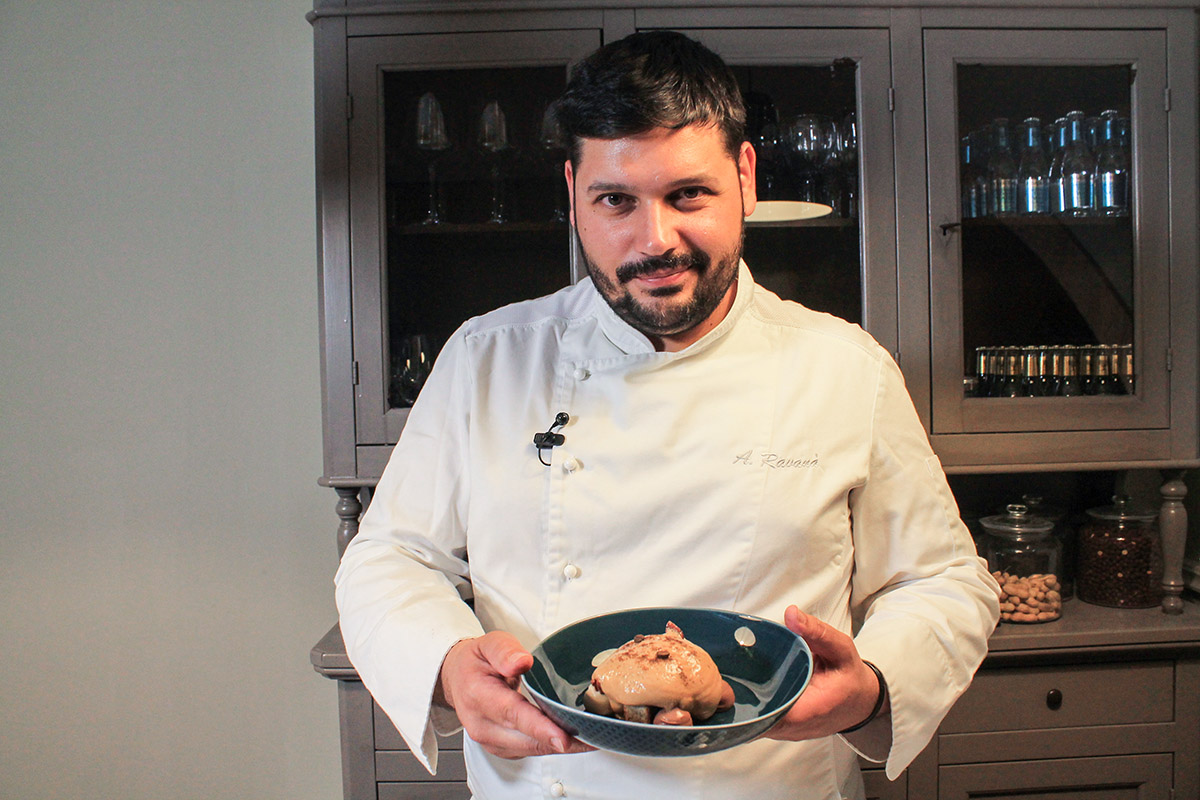 His dessert called Cacao, Spezie e Frutta (Cocoa, Spices and Fruit), included in the menu, is one of those tastings that leave an impression. The preparation involves many different steps – each of which could be considered a separate recipe – with combinations that seem to be exactly right and brilliant, featuring ingredients that may not be so popular, but are related to the area of Agrigento. Such as pecan, which is produced in Raffadali.
We are on the first floor of the restaurant, a convivial place where the chef feels free from the formalisms of gourmet cuisine. This is the place where he is going to prepare the dessert for us, consisting of a Moak coffee and pecan financier (a small soft biscuit) with orange compote, two types of cream, and an almond and Moak coffee based mousse.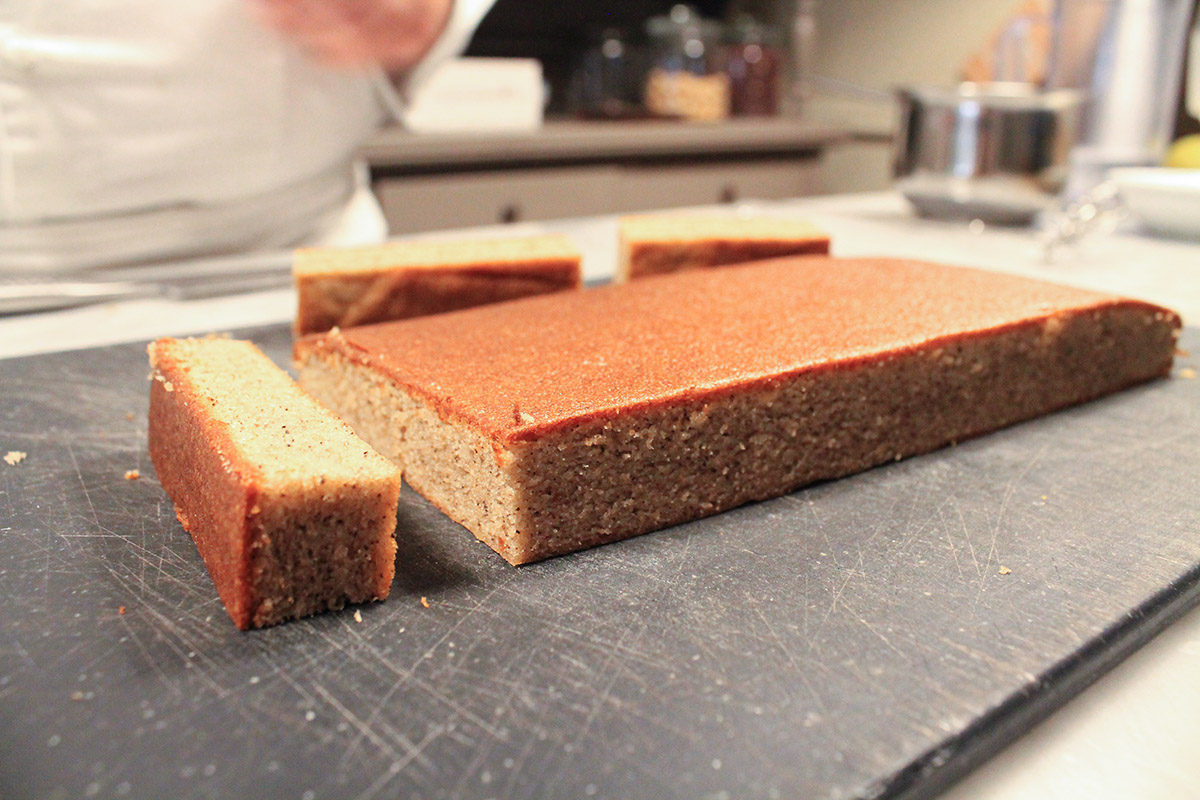 Recipe for the financier biscuit
– 212 g egg white
– 216 g icing sugar
– 204 g butter
– 153 g pecans
– 70 g soft-wheat flour
– 30 g glucose
– 9 g yeast
– 1.5 g salt
– 8 g Moak Aromatik coffee powder
Grind the pecans in a blender and add sugar, flour, Moak coffee powder, yeast and salt. Then add the egg white and glucose and let everything rehydrate by blending at low speed. Meanwhile, heat the butter in a saucepan and add it to the ingredients in the blender. Leave the mixture to rest in the refrigerator for 30 minutes, then spread it out on a baking tray and bake in a thermo-ventilated oven for about 12/14 minutes at a temperature of 170° C.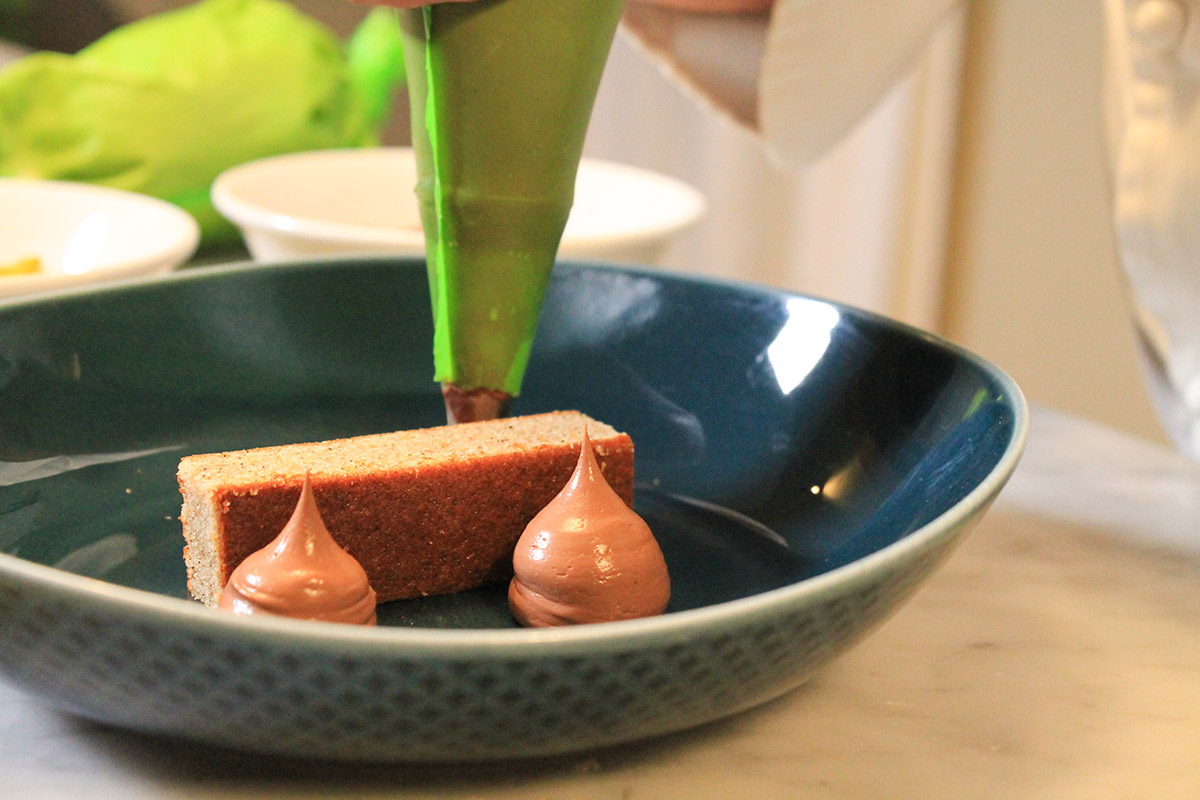 Recipe for the chocolate cream
– 100 g milk
– 80 g egg yolks
– 40 g sugar
– 2 g food grade gelatine
– 30 g water
– 1 g pepper powder
– 170 g dark chocolate 80%
– 300 g single cream
Pour the milk in a pot and heat up to a temperature of 80° C. In the meantime, process the eggs with the sugar and have the whole mixture reach a temperature of 80° C. Then add the previously hydrated gelatine. Add the partially melted chocolate and pepper, mix everything by adding the liquid cream little by little. Leave to rest in the refrigerator for about 6 hours.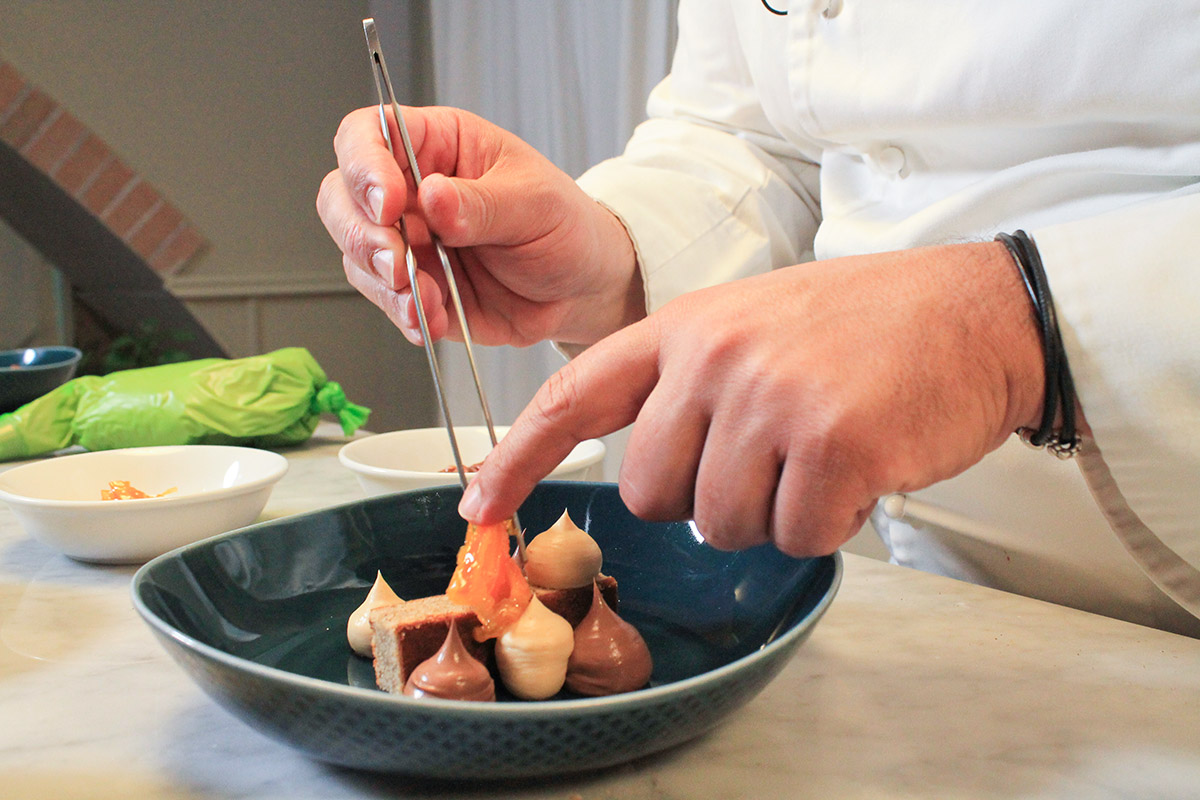 Recipe for the cinnamon
– 250 g Dulcey chocolate
– 400 g single cream
– 100 g milk
– 8 g food grade gelatine
– 50 g water
– 10 g glucose syrup
– 1 g cinnamon
Heat cream, glucose syrup, cinnamon and milk in a properly sized saucepan for two minutes at a temperature of 80°C. Add the previously hydrated gelatine and mix well. Pour the mixture over the chocolate and mix for at least 3 minutes, in order to obtain a smooth, shiny and homogeneous mixture. Leave to rest in the fridge for at least 4 hours.
Recipe for the Moak coffee mousse
– 200 g almond milk
– 200 g water
– 15 g food grade gelatine
– 100 g Moak espresso
– 80 g caster sugar
Heat water, sugar and Moak espresso fin a small pan at a temperature of 80° C for one minute. Add the previously hydrated gelatine and mix well. Add the almond milk and emulsify. Pour the mixture into a siphon with two nitrogen cartridges. Leave to rest in the refrigerator for at least one hour.
Recipe for caramelised pecans
– 450 g water
– 340 g sugar
– 200 g pecans
Bring water to boil in a pot and add sugar, making it melt slowly. As soon as the syrup reaches boiling point, cook the dried fruit for 20 minutes. Drain and place on a baking tray, caramelise it in the oven at a temperature of 165/175 degrees Celsius for about 20 minutes, until the nuts are golden and crisp.
Final mise en place
Cut out a small rectangle of the financier biscuit and place it on a plate, add the Sicilian orange mixture, put the two creams into two pastry bags and create tufts to match the biscuit, the crumbled caramelised pecans and, to complete the dish, the almond and Moak coffee mousse with a few coffee beans.
Watch the video