Julio Cortàzar, Argentinian writer of the early 20th century used to affirm that there is a strong connection between writing and photography. "Photography light is what represents reality". The photographer captures a moment, he immortalizes it in time, illustrating an experience, creating a lasting link between past, present and future. The historical moment invites us to be quick, concise, to use more and more symbols and icons, and wants to make sure we won't miss the famous train that passes only once in a lifetime. However, it takes time to see the light Cortàzar was talking about, to find the right words to tell a story that excites or to read a book and fantasize about it. Like the time everyone manages to carve out for a coffee, for a break. Therefore, Moak dedicated its two cultural contests, Caffè Letterario and Fuori Fuoco to time besides coffee. To minutes, hours or weeks young writing and photography lovers take to immortalize an experience of theirs, some telling it with words, some with images.
And while this time passes, Caffè Letter- ario arrived at its 15th edition; a teenager joined by well-known names – presidents and panels of judges – that helped it growing, making it count among the most renowned national literary contests. Cinzia Tani, a woman, will preside over the panel during the 2016 edition. Writer, journalist, radio and broadcast author, she hosts "Uno Mattina Caffé" on Rai (Italian State Television). She will be joined by Elena Stancanelli, finalist of the Premio Strega, writers Santo Piazzese and Gianluca Morozzo, and by Enza Campino, responsible of the column "parola di libraio" (word of the bookseller) of Il Sole 24 Ore, to evaluate the short stories. This year, Sicilian writer Gesualdo Bufalino will be honoured, as his 20th death date was celebrated last June 14th. With the illustration – which spreads the contest's communication – Moak wanted to emphasize some of the great passions – besides the visceral one for writing – of the famous writer: chess, passion for dancing and Modica, "a town with the shape of a split pomegranate, close to the sea but ru- ral; partly confined on a spur of rock, partly scattered at its feet; with a lot of steps between the two parts…". The Top 10 stories inspired by coffee that will be selected by the panel will be published in the 2016 anthology "Stories about coffee", while the three winner will be awarded with prize money.
Fuori Fuoco, the international photography contest promoted by Moak with the organi- zational support of Archinet is younger, but not less important. It is its third birthday, but already has a promising future; in fact, many young photography enthusiasts as well as successful artists took part during the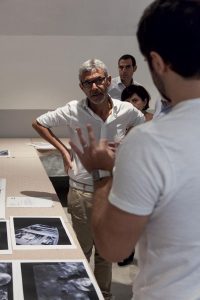 previous edition. As always, the topic is open, as long as it relates to coffee, and those who take pictures do it with their heart. An invitation to be touched through the snapshots. Three, to be precise, that tell a story. Works can be done in black and white or coloured, but only in digital format and should be delivered before deadline within August 31st. It is again Denis Curti who will preside over the third Fuori Fuoco edition. He will be assisted by expert judges in the difficult task to select three winning works: Cinzia Ferrara, president of Aiap (Ital- ian Association Design of Visual Communica- tion), Marco Lentini, graphic designer of Caffè Moak, and photographer Tony Gentile.
Winners of Caffè Letterario and Fuori Fuoco Moak 2016 will be proclaimed during the prize-giving evening held on October 29th.
info:
www.caffe-letterario.it
FB[caffeletterariomoak]
TW[letterariomoak]
www.fuori-fuoco.com
FB[fuori fuoco moak]
TW [@fuorifuocomoak]