Caffè Moak keeps being a family-run company and creates a new opera- tions management, placing a manager in charge of it, who was basically born and raised between coffee beans and coffee scent. It is Maurizio Mauro, grandson of Demetrio Mauro, founder of the historical and namesake Calabrian roasting industry in 1949, he also was president of. Mauro is 49 years old, is married and has a girl; he graduated in political Science at Milan's State University, earning also Marketing and Communication degrees at SDA Bocconi in Milan and Columbia University in New York. In 1994, he goes back to Calabria and starts his working experience in the family industry at the side of his father Antonio, his mentor, who will train him through the secrets of coffee. Within few years, Maurizio is considered one of the main experts of green coffee in Italy, and gains experience in all sales sectors, from retail to ho.re.ca, holding important manage- rial roles and developing innovative projects connected to the coffee industry, such as the fap capsules. Even the creation of the "3-cup Mocha" capsule bears his signature. His charisma and his great entrepreneurial flair are acknowledged even in other fields: from President of Young Entrepreneurs of Confindustria (Italian Industrial Federation) and vice president of Confindustria Calabria, to vice president of the Italian Association of Coffee Roasters and board member of the Italian Association of Branded Products, as well as the position of president of the school of fine arts in Reggio Calabria.
Last September, Mauro leaves the namesake company finally, but takes his determination and innate passion for the fascinating world of coffee with him. Some month after, he will rediscover this same passion making his entrance into the Moak company.
"When I met (again) Alessandro Spadola – tells the new manager – I was pleased to find out that we had many things in common, and an unusual affinity both from a human and a professional point of view. Thanks to the Spadola family, I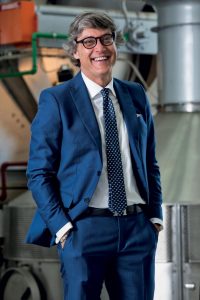 (again) found a family envi- ronment, similar to the one I grew up in. I (re) discovered the aroma of the best coffees and the taste of the most refined blends. A human dimension enriched by a group of motivated collaborators favouring teamwork. I knew Moak and its history. However, I would have not imagined entering such an extraordinary reality, where passion, expertise and tradition are well combined with innovation ability and the determination to corner always new mar- kets. Moreover, I was struck by the attention given to the brand image, but I realized how much this company aims high when I saw the production plant, a cutting edge and totally Italian technology".
Maurizio Mauro was chosen by the Spadola family to fulfil the role of COO (Chief Operating Officer), in order to reorganise production, sales, logistics and supply, and of SBM (Stra-tegic Business Manager) to improve company business strategies and, in particular – in team with Alessandro Spadola, CEO of the holding – to carry out development plans in new markets. Thanks to his skills regarding green coffee, Mauro will take care of – togeth- er with President Giovanni Spadola – quality control of the raw material and expand the already wide range of blends.
With the new management, Moak starts a new stage that marks a change in the brand schedule, looking to the future with great growth prospects. "Maurizio Mauro – affirms Alessandro Spadola – is the ideal person to perform a role that was inevitable and stra- tegic in the changing process Moak started in the last few years. Maurizio's gained expe- rience will be of essential importance with reference to one of the primary aims of our company: balance activities of the different sectors in regard to everyone's skills, in order to turn our brand even more competitive, as we aim to enter new markets".
Such goals would like to be accomplished within the year 2017, when Moak will blow out its 50 candles.