Behind the Navigli quarter, in Via Villoresi, only 24 seats welcome guests of the Restaurant Tano Passami l'Olio. The name says it all about the cooking philosophy of Chef Gaetano Simonato: extra virgin olive oil considered as best seasoning both while cooking and after it. Butter and margarine are banished, while space is given to a cupboard containing more than fifty types of extra virgin olive oil. Awarded with a Michelin star, his dishes are sometimes pulled out of the air, other times recalled from tradition and then reinterpreted.
Flambé prawns with scents of anise and coffee powder



ingredients for 4 people:
12 big prawns;

Star anise;

Coffee powder;

1 bunch of wild fennel;

2 medium-size potatoes;

White wine;

Ouzo (Greek anise liqueur);

Salt, pepper and sugar;

Medium extra virgin olive oil (Sicily, Sardinia)
Preparation:
Clean the prawns by removing the shell, but leaving the head. Peel the potatoes and stew them very tender.

Whisk the potatoes and add 4 sprigs of wild fennel, season to taste with salt and sugar.

Put the compound into a feeding bottle. Cook extra virgin olive oil with 2 star anises in a pan and sear the prawns for 1 ½ minutes. Add a hint of white wine and some Ouzo to flambé, season to taste with salt, sugar and pepper.
For the presentation
Put some stripes of potatoe and fennel cream on the platter, place the prawns on top of them and spread with coffee powder and previously minced wild fennel. Pin a sprig of wild fennel on one of the prawns and finish with a drizzle of extra virgin olive oil.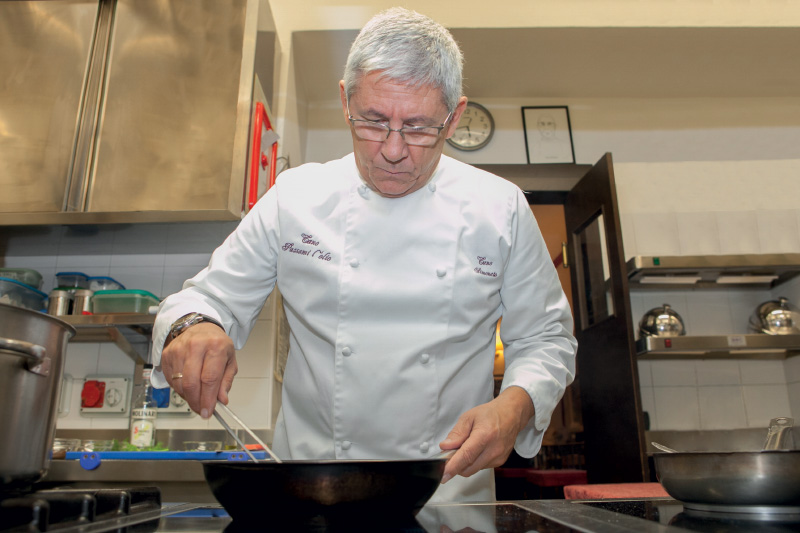 In via Gesù, in the heart of Milan's high-fashion district, the Four Seasons Hotel is situated. The fragments of frescoes decorating its walls purposely recall the past of this building, an old convent of the 15th century, which hosts the Four Seasons Hotel. Over the course of the years, it has been standing out as the place par excellence of hospitality and impeccable service in the collective imagination of the city; also thanks to the Restaurant La Veranda, where guests are delighted with dishes prepared by Executive Chef Sergio Mei Tomasi and his brigade of 28 cooks. Recognized as one of the most appreciated Chefs of his generation, honoured with the aspired "Cook of the Year" award in 1998, Sergio Mei fully performs his cooking concept in creating simple dishes based on fresh and selected ingredients that are not necessarily foie gras and caviar.
Tortelli made with coffee dough



Ingredients for 4 people:
for the pasta

:

350 g durum wheat flour, 150 g dark rice flour, 25 g espresso coffee, 10 g coffee powder, 150 g water, 50 g white wine;

for the filling

: 250 g potatoes, 100 g pink Montoro onion, 150 g oil, ½

g of lemon shaving, 10 g grated parmesan, salt and pepper to taste;

for the dressing

:

100 g Malga butter (butter from Alpine dairy farm), 1 sprig of lemon thyme.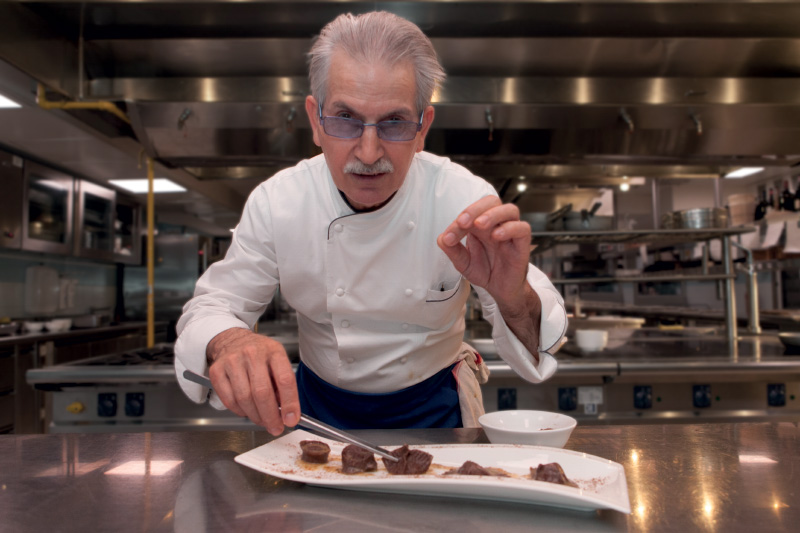 Procedure:
for the dough

:

sift durum wheat flour with rice flour in a mixing bowl, knead with water, white wine and cold coffee at a temperature of 35°. Leave the dough to rest for 15 minutes in a plastic wrap

.

For the filling

: wash the potatoes and boil them unpeeled in salted water including the herbs. Peel and sieve them, put the pulp back into a mixing bowl. Peel the onion, cut it into small cubes and make it mature in a pan with oil and some water; add it to the potatoes including salt, pepper and grated parmesan.

For the Tortelli

:

stretch the dough to a thin sheet and spread with coffee powder; fill with stuffing and wrap the Tortelli or ravioli in the desired form, as required. Once cooked, spice the Tortelli with butter, emulsified with cooking water and scented with lemon thyme.
For the presentation
Serve the Tortelli on a plate with sprinkled coffee powder mixed with grated parmesan.