Oranges, beetroot and coffee crumb in aspic. A dish with high percentages of iron and vitamin

C.

Oranges are a rich source of vitamin C and A, facilitate the absorption of iron and strengthen the bones. Roberta Tribastone pairs them with beetroot – which are also rich in iron – sprouted lentils and coffee in this recipe. A real cure-all above all for those who suffer from anemia (women in particular) and don't eat animal proteins. Additionally, it is ideal to face the April slumberswith more energy this spring.
Ingredients for 4 people:
for the aspic
– 500 ml of Sicilian orange juice
– 50 gr corn starch
– 3 gr salt
– 1 sprig of dill
for the carpaccio
– 80 g of precooked beetroot
– 1 teaspoon of lemon peel
– 1 teaspoon of pink pepper
– salt to taste
– extra virgin olive oil
for the crumb
– 20 g single origin Old Kentcoffee beans
– 25 g blanched almonds
– 25 g roasted coarse breadcrumbs
to decorate
lentil and pea sprouts
Procedure
Start to prepare the aspic by squeezing half litre of orange juice from fresh Sicilian oranges(1). Pour in in a pot; add salt, corn starch and dill(2). Whisk, put it on the stove and keep on mixing until it boils. Pour the mixture into the moulds, and then put them in the fridge for at least 4/5 hours (3).
Meanwhile, cut the beetroot into slices and marinate it by adding a pinch of salt, a tablespoon of extra virgin olive oil(4), the juice of half orange, pink pepper(5) and the grated orange peel (6). Leave to stand in a cool place for about an hour.
Lastly, prepare the crumbs. Mix almonds, coarse breadcrumbs and coffee beans (5). Crush the mixture in a mortar(6), and then toast it for some minute (7).
Good to know: if put in a flip-flop jar, toasted breadcrumbs can be stored for a couple of weeks in the fridge or 3 to 4 days at room temperature.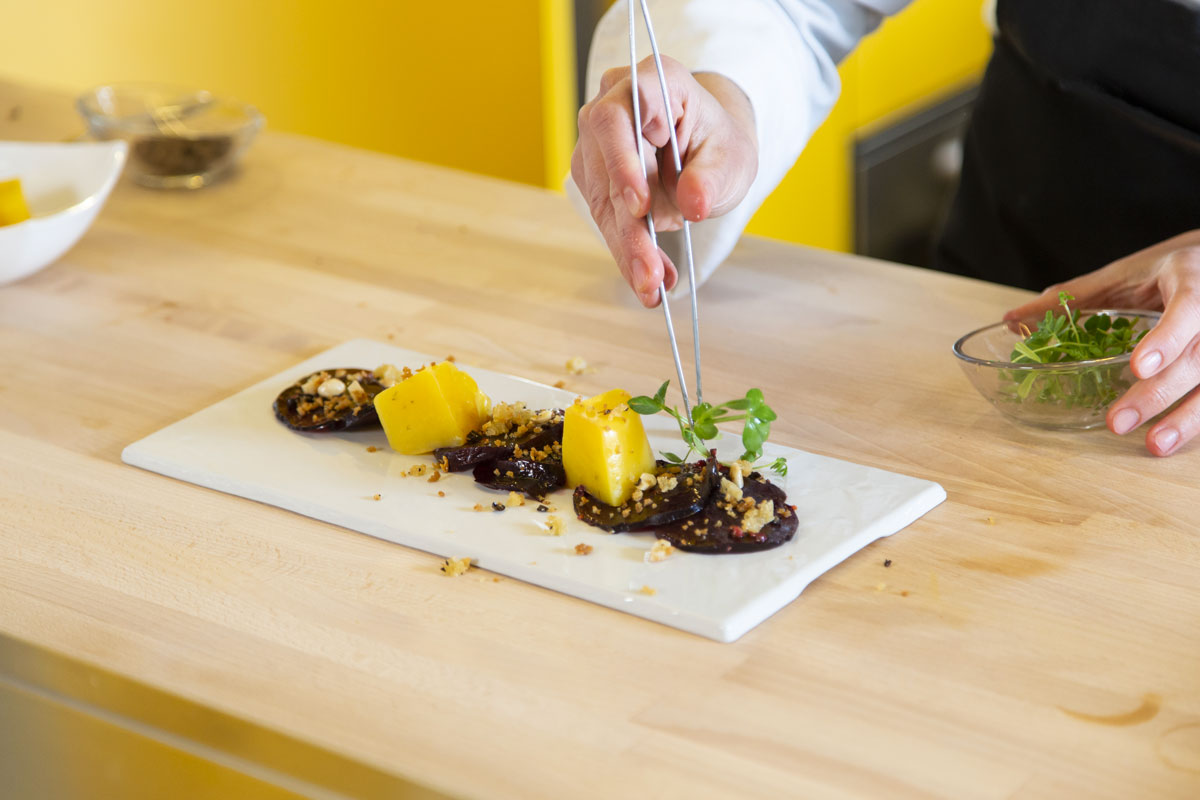 Once everything is ready, put the aspic on a beetroot bed. Then decorate with coffee crumbs and lentil and pea sprouts (8).
#food_02
febbraio 2019
vegan chef: Roberta Tribastone
location: Gerratana Arredi Professionali