Pumpkin and coffee crumble risotto to combat stress and insomnia.
Did you know that besides their excellent nutritional properties, pumpkins are a perfect natural anti-stress? It mitigates stress and combats insomnia. Try out this recipe by Roberta Tribastone. A real cure-all even in case of tiredness, thanks to the properties of the other ingredients: mushrooms rich in vitamin b (b1 b2 b3) help to beat the overall sense of fatigue and are anti-inflammatory. Moreover, they strengthen the immune defence system and reduce the accumulation of cholesterol. As for leek, it features digestive and antibiotic properties.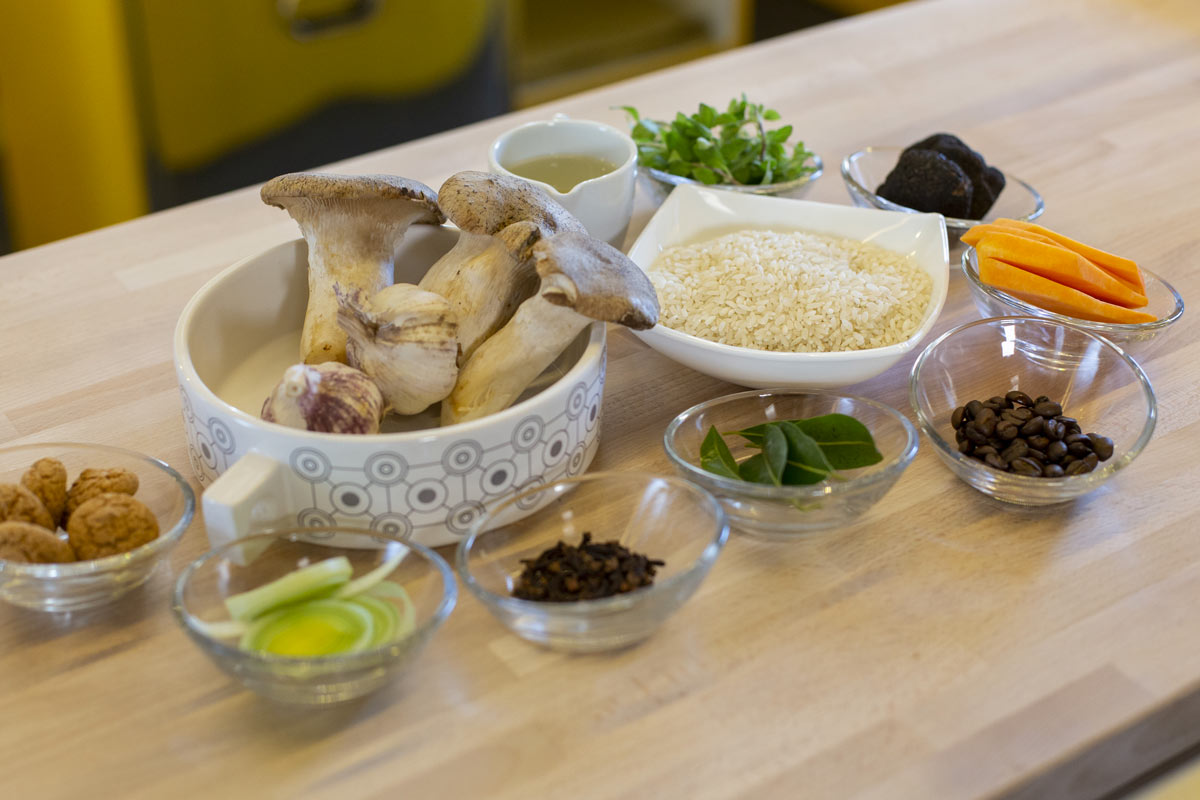 Ingredients for 4 people
– 200 g carnaroli rice
– 100 g pumpkin
– 40 g leek
– 1\2 clove of garlic
– 200 g king trumpet mushrooms
– 200 ml white wine
– 1 marjoram twig
– 60 g black hooked truffle
– 40 g amaretti
– 6 Caffè Moak Old Kentbeans
– salt to taste
– oil to taste
For the vegetable stock:
– 1 potato
– 1 carrot
– celery
– 4 cloves
– 4 laurel leaves
Procedure
Prepare the vegetable stock by putting 1 carrot, 1 potato, 1 celery, cloves and the laurel leaves into a pot. Add water and bring to boil (picture 1).
Slice leek, mushrooms and garlic and chop up the pumpkin on a cutting board. Put the pot on and make a mirepoix with the three ingredients (pictures 2-3-4-5).
Simmer with white wine until reduced and add the vegetable stock (a ladleful at a time, keeping the fire low and stirring with a wooden spoon). Turn off the gas as soon as it's done (around 20/25 minutes).
Fry the garlic (picture 6) separately, then add the mushrooms and simmer with white wine (picture 7). Once cooked, add salt and marjoram. Crush the coffee beans and the amaretti in a mortar until you obtain a crumble (picture 8). Time to plate up: grate the truffle and add the crumble on top (picture 9).
#food_01 February 2019 vegan chef: Roberta Tribastone location: Gerratana Arredi Professionali