Creativity and inspiration of the two-starred chef in a coffee based dessert to eat also with your eyes

.

Don't be surprised to find a portafilter on your plate when ordering a Moakaffé dessert at the Duomo restaurant in Ragusa. This is how two star Michelin chef Ciccio Sultano wanted to pay homage to Moak, revealing once again his full creativity on a food porn plate that delights the eye and the palate. Made of three components – brioche with cardamom gelato, mascarpone cream and a coffee ice pop – the dessert ends the sensorial experience of the new 2018 "Demoninations" menu in great style.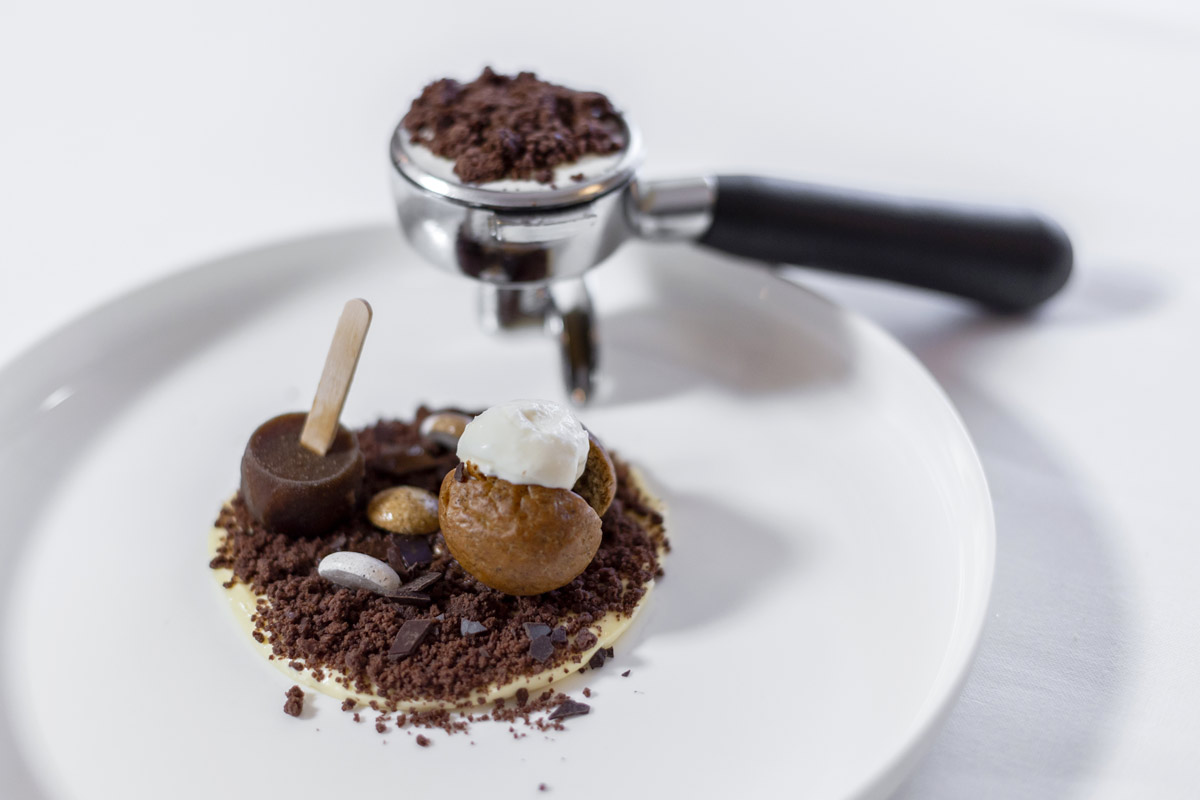 Quoting the prologue of the menu: "An itinerary leading through millennials of history, ingredients and recipes that became embedded in the island located in the heart of the Mediterranean. A journey through space and time, which starts with tradition and looks to the future.
All this can be found in Moakaffè: past (the discovery of coffee is attributed to the Arabs), present (brioche with gelato, a typical and timeless element of Sicily) and future (reinterpreted "smart" version of the coffee ice pop standing for innovation). If you decide to try your hand at preparing it at home, here's the recipe Ciccio Sultano revealed for thesignmoak.
Moakaffè recipe
For the cocoa crumble:
– 250 g super fine flour type '00'
– 30 g cacao
– 5 g Moak coffee
– half teaspoon of cardamom powder
– 70 g sugar
– 200 g butter
Mix and knead the ingredients, leave to rest and then bake at 165°C for about 13-15 minutes.
For the cardamom gelato:
600 g milk
175 g cream
100 g sugar
79 g glucose powder
7 g neutral thickener
7 g infused cardamom
Crush the cardamom with a meat mallet and shortly toast them; leave to infuse in milk and cream. Add sugars and thickener, leave to mature for about 6 hours and then stir until creamy.
For the coffee ice pop:
200 g weak black coffee
40 g sugar
50 g water
Dissolve sugar in the hot coffee, add water and freeze the mix in the moulds with the ice cream sticks.
For the coffee brioche:
first dough (has to double in size)
117 g strong flour
59 g yeast
73 g water
Second dough:
250 g strong flour
63 g sugar
6 g salt
70 g eggs
44 g milk (with 2 coffee sachets)
120 g butter
When the first dough doubles in size, mix it with flour, sugar, milk and eggs. Add salt and then butter at room temperature. Leave to rest for around 10 minutes, then divide in portions of 10-12 g. Bake for 11 minutes at a temperature of 175°C.
For the mascarpone cream:
500 g mascarpone
5 g gelatin
100 g egg yolks
90 g sugar
50 g water
20 g cream
Make a cream (pâte à bombe) out of yolks and syrup at 121°C. Meanwhile soak gelatin and dissolve in 20 g of cream. Add the gelatin to the mascarpone, then add the pâte à bombe. Leave to rest before use.
Choreography of the plate
Draw a circle of mascarpone cream on the plate, cover with the cocoa crumble and chocolate chips. Warm up the brioche, cut in half and fill with cardamom gelato, then sprinkle coffee powder over it. Finish with the ice pop. Fill the coffee portafilter with cardamom gelato sprinkled with crumble and coffee powder.
Watch the video