From Colombia to India, up to Costa Rica. This is the journey Lorenzo Ruta describes with the Moak dessert.
A trip starting in the volcanic region of Tolima, Colombia, then immersing in the Indian forest and continuing in the lands of Costa Rica. These are the three legs Lorenzo Ruta – chef at Taverna Migliore in Modica – describes with the dessert paying homage to coffee and to Moak. Three layers, each featuring a different texture and single origin, which recall scents, flavours and colours of plantations Moak selects the best Arabica varieties from.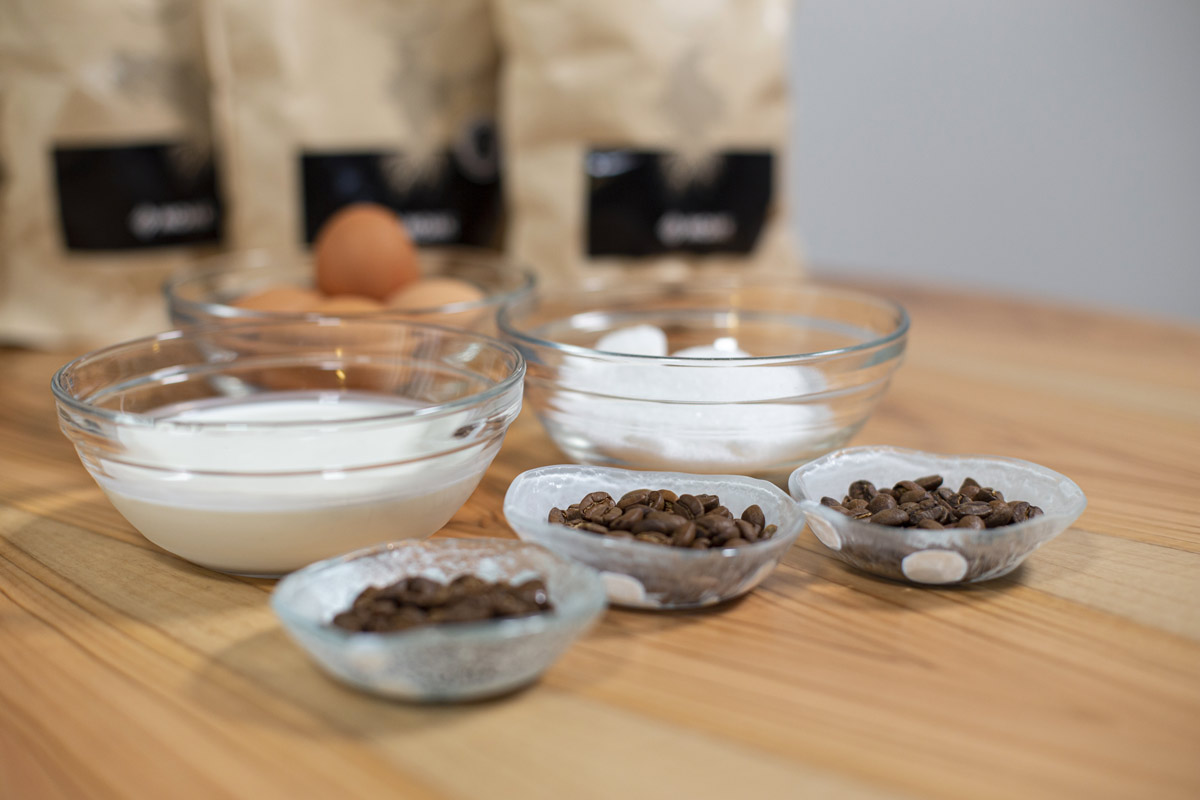 "I've been having a mania for coffee for some time now – explains Ruta. We've always paid great attention to the dessert menu, imagining each dessert not only as the finishing touch of a meal, but also as a goodbye to our guests. Coffee kind of plays the same role. I have always been fascinated by raw materials, by their origin. Sprouts, for example, which I often use in my dishes and which symbolize birth. Hence, thinking of the origin of a blend, I wanted to create a dessert that would enhance coffee, and three coffee varieties that would enhance my dessert".
The "Moak dessert" is made of three bases. Each one features a different texture and a different single origin obtained with filter extraction method. The fist layer is a slow-baked shortcrust pastry base, where the typical intense coffee taste of Supremo GS (a refined Colombian Arabica) stands out. The second layer is the heart of the dessert, and consists of Bavarian cream made with the single origin Old Kent, which offers the palate spicy and citrusy notes as well as a pleasant aftertaste of cinnamon and orange. The last stage of this trip is in Costa Rica, a region where coffee plants grow side by side with dried fruit and chocolate. These are also the scents one will notice in this last layer covering the dessert, in a soft and delicate ganache made prepared with the single origin Orquidea.
"As far as the coffee extraction method is concerned – says the chef of Taverna Migliore – I choose the filter extraction. After several tests, I found that it's the one that enhances special coffees , such as the single origins, at best. Preparation times are certainly longer, but this method respects raw materials and gives off their aromatic features".
Moak Dessert
For the coffee-flavoured shortcrust pastry
– 2 eggs
– 500 g superfine flour
– 200 g icing sugar
– 250 g butter
– 50 g single origin coffee Old Kent
Knead everything in a stand mixer and pour the coffee into the mixture at the end. Once a compact and smooth dough is obtained, leave it to rest in the fridge for around one hour. Then roll out the dough to a thin layer and prepare the base to fit with the moulds.
For the Bavarian coffee cream
– 200 g liquid cream
– 40 g yolks
– 50 g sugar
– 125 g single origin coffee Supremo GS
– 8 g fish gelatin
– 350 g whipped cream
Put yolks and sugar into a bowl and use a whisk to beat. Add coffee and liquid cream, leaving aside 50 g to be used to melt the fish gelatin in. Pour everything in and whisk quickly. Then whip the 350 g of cream and incorporate delicately. Pour the mixture into the moulds and cover with the shortcrust pastry. Put them in the blast chiller at a temperature of -60° for about 2 hours
For the coffee ganache
– 100 g milk
– 300 g liquid cream
– two weak black coffee single origin Orquidea
– 15 g bitter cocoa
– 150 white chocolate
Heat milk and cream to a temperature of 80°, add white chocolate, cocoa powder and coffee. When all ingredients are melted and well blended, pour the mixture into a syphon and add two charges. Leave to rest in the fridge for at least three hours.
Composition of the plate
Take the Bavarian cream and shortcrust pastry base delicately from the moulds and put on a dish. Meanwhile, take the syphon out of the fridge and shake well. Spread the dessert with two tufts of ganache and decorate with coffee powder or beans.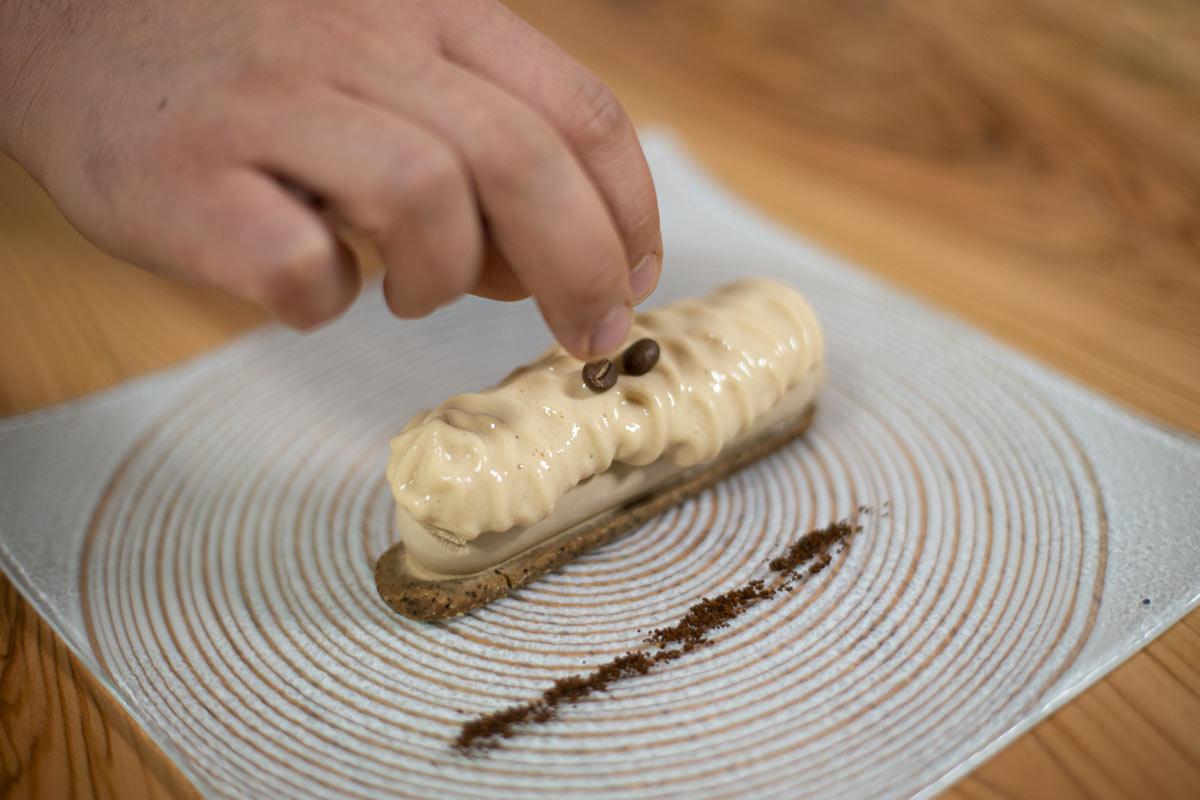 Lorenzo Ruta
His career started as a young boy, when they called him into the kitchen: he was entranced by the colours, fragrances and textures of raw materials. For three years, he worked his way up the ladder in Cologne, Germany, before coming back to Modica to work with star chef Accursio Craparo. Then he spent three years in Turin, where he learnt a lot about meat, cold cuts and cheeses, and broadens his knowledge of natural wines. On his return, his adventure in the kitchen of Taverna Migliore starts in Modica, working with three women: Giorgia, Alice and Valentina. Thanks to his innovative touch, the restaurant was included in the "Top Italian Restaurants guide 2020 by Gambero Rosso" obtaining 76 points and a fork, and was awarded with a chef's hat in "Le Guide de L'Espresso".