How to prepare a vegan coffee gelato within a few seconds.
Preparing gelato within a few seconds – basically just a time for a coffee – which is tasty, natural and instant can be a real challenge. Not for Massimiliano Scotti, best ice cream maker in Europe, who just received his third cone award. A law degree, a life spent in the marketing sector and a great passion for cuisine and ice-cream. In fact, in 2015 Massimiliano opened Verolatte, his first ice-cream parlour in Vigevano.
As an innovator and great communicator, Massimiliano has received several awards. Not only for his ice-cream (he got back to old preparation methods by using genuine products and has been studying and scientifically studied the ingredients' chemical compositions as well as the physics of the cold. His motto: "If you are good in doing something, you also have to be good in communicating it". For the last 2 years, he's been tutor of the program Detto Fatto (together with Bianca Guaccero, broadcasted on the Italian state broadcaster RAI 2) and partner of Air Italy, for which he created a gelato to be served on board.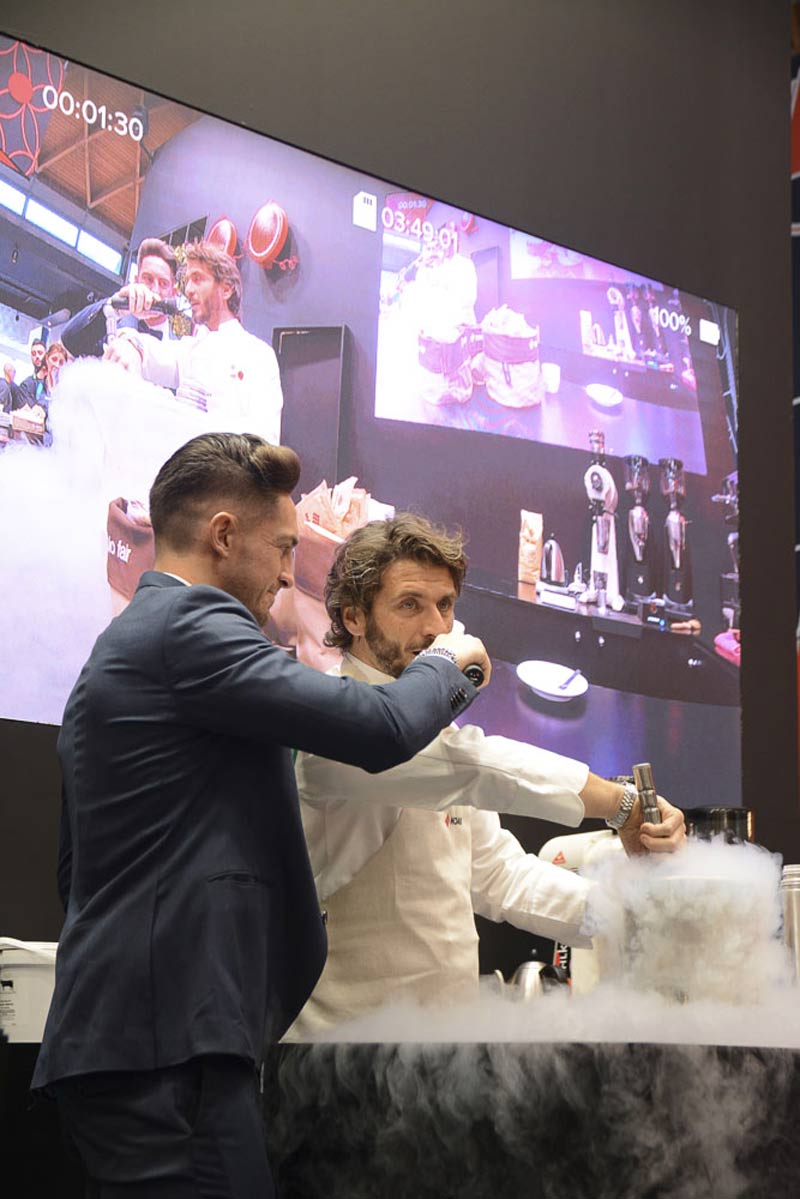 Massimiliano has been one of the first ice-cream makers that use the liquid nitrogen technique. On the occasion of Sigep in Rimini, he created a very tasty and scenographic coffee and hazelnut flavoured ice-cream for Moak. The procedure? Quick and easy. It's one of those recipes that don't need to be precise. The result? A healthier and more natural ice-cream, low In fat, containing no thickeners. Basically, you can even prepare it in front of your clients. Here's how to do it:
Coffee and chocolate flavoured vegan gelato
ingredients:
– espresso coffee
– dark chocolate or cocoa powder
– sugar to taste
Prepare the espresso coffee and add it to the dark chocolate (or cocoa powder) that was previously cut into pieces. Add sugar to taste. Put on the stove and stir until the mix is creamy and smooth. Then add liquid nitrogen (a harmless gas, but anyway to be used with caution) at a temperature of – 196° C. Use a stand mixer, your ice-cream will be ready within a few seconds. In fact, while blending, the nitrogen cools down the mixture and flavours are kept unchanged. The result is a creamier gelato compared to classical ice-cream, which is less cold to the palate.
If you don't have a stand mixer and wish to turn the preparation into something spectacular and extraordinary, blend the mixture with a ladle. While blending, it is important to figure out the thickness and right amount of nitrogen to be used. If it' not getting harder, stir slower, otherwise increase the speed.
Besides creating an attraction in your coffee shop, nitrogen ice-cream surely is a method that allows to avoid excessive consumption and storage of products. Coffee bars offering also ice-cream, for example, may run out of a flavour during busy days. The liquid nitrogen technique allows to prepare only the required amount of ice-cream, thus avoiding waste.