The International Marathon in support of small-scale producers held on May 10th-12th.
Thousands of small producers working in the fair trade circuit will again be on the spotlight this weekend in occasion of the Big Fairtrade Challenge.
Connecting the whole country in the name of consumption of ethical products, which respect people and the environment, the campaign involves bars, coffee shops and roasting companies in the World Fair Trade Daytaking place on May 11th.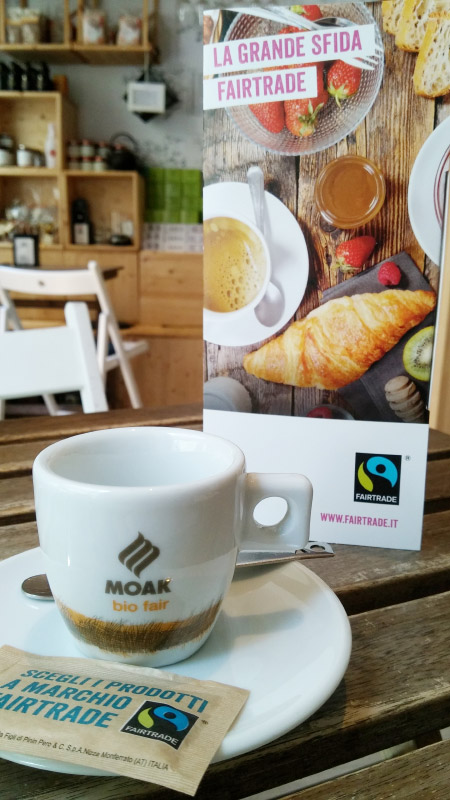 Coffee shops serving the Moak Bio Fair blends attend the initiative as well. The aim is to raise awareness among citizens and consumers. Paying a fair price for raw materials, such as coffee, cocoa, fresh fruit, tea and sugar produced in the developing countries that cultivate them with commitment, is of utmost importance. In fact, those who during the three-day event go to the coffee shops joining the initiative will be offered a Moak Bio Fair espresso when ordering breakfast.
This fourth edition of the awareness campaign is obviously directed to everyone, including consumers, companies and institutions. In Italy alone, about 40,000 users have already registered, promoting the initiative with both public and private events. Families, organisations and associations working in the social and cultural spheres also take part in the big challenge.
All events are published on the website www.grandesfidafairtrade.it. A map and a counter will keep track in real time of how many people are taking part in the Big Fairtrade Challenge. The coffee shop with highest participation rate will be awarded with the title of "Fairtrade Best Bar 2019".
The Moak coffee shops attending #grandesfidafairtrade:
Arduini Delizie Setine – (Sezze-Roma)
Caffè On The Rocks – Terracina – Latina
Trattoria Enoteca Assunta (Latina)
Gelateria Biologica (Roma)
Casa Pane (Caserta)
Caffè Odissea (Bari)
Arian Caffè (Putignano – Bari)
Dolceria Savà – (Santeramo in Colle -Bari)
Panaino Restaurant & Pizza (Lauria – Potenza)
Bar Bamboo (Potenza)
Bar Madrugada (Porto Rotondo – Oristano)
Senso Unico (Olbia)
Fruit Bar (Catania)
Bar Tabarè (Modica – Ragusa)
Babbìo (Modica – Ragusa)
Olivia Natural Bistrò (Ortigia – Siracusa)